Question: Is it worth the price tag?
This post has been drafted since August 2017 and allegedly went incognito in our draft box for 7 months.
We know bloggers should be more 'efficient' when it comes to product reviews however this was an exception.
Traveling is what we do for a living, not literally, but our career requires us to live out of a suitcase (and a cheap $10 clothing rack) most of the time.
From the number of boarding passes collected, we do approximately 8 flights per month on average.
Out of which most are done with just a carry-on, a laptop case and two eye-bags.
The old carry-on gave me backaches and it was too small to fully utilize capacity allowed by most airlines.
It was time to ditch the good ol' and invest in a carry-on that could bring me, my 20 pairs of socks and fluffy PJs to Mars.
Driven by the hefty price tag, we tested the Delsey Caumartin carry-on to the absolute maximum.
From how much it can fit, to how well the zipper and wheels perform and if it does equally or beyond what a carry-on should do.
H 55 x L 40 x W 20

37.26 L

2.2 KG

RYANAIR CABIN SUITCASE

ULTRALIGHT

4 EASY RUNNING & QUIET WHEELS

POLY-CARBONATE

TSA COMBINATION LOCK

5 YEARS WORLDWIDE GUARANTEE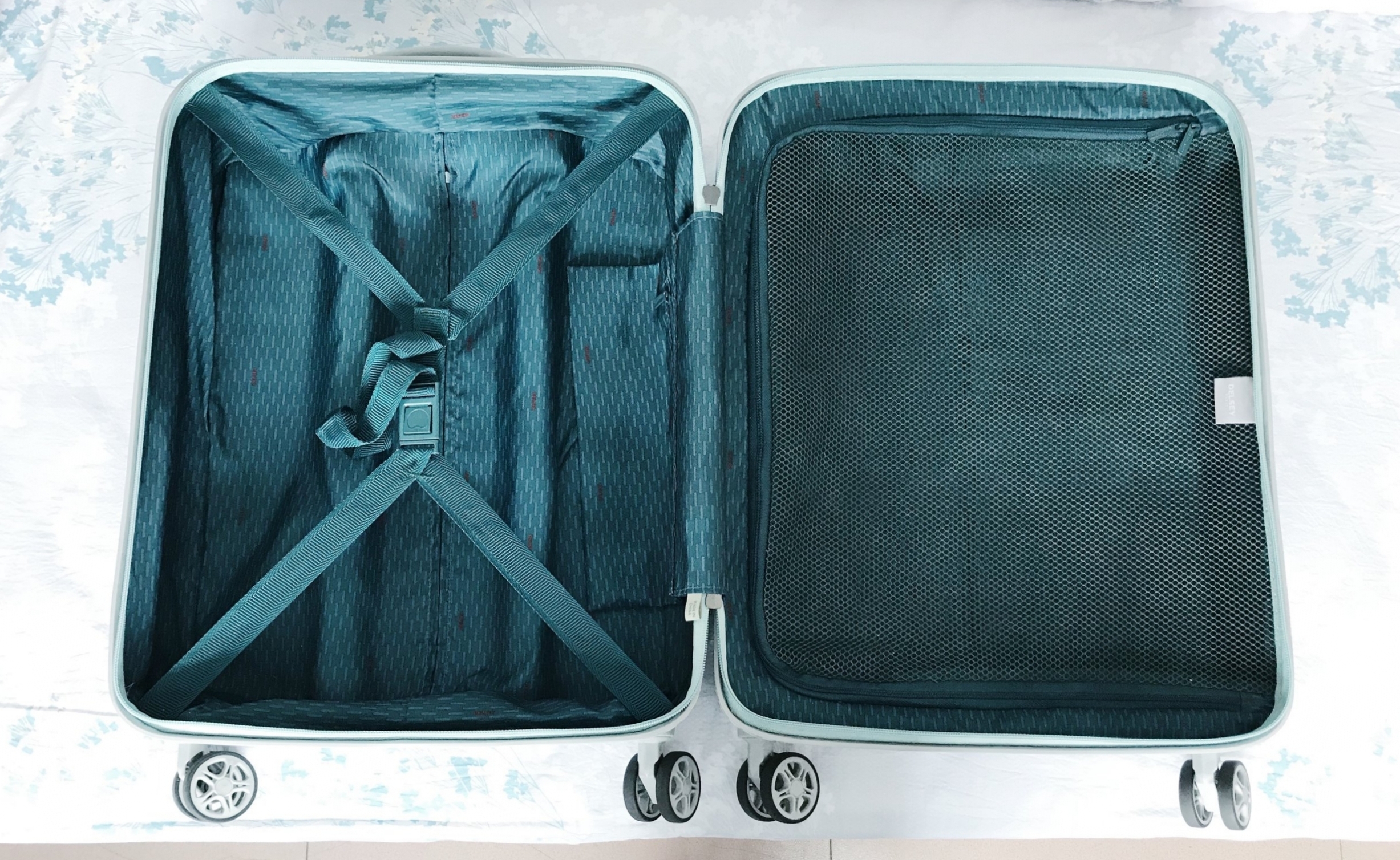 Without considering baggage weight restrictions.
A good carry-on luggage can double up as a check-in luggage anytime.
- 7 sweaters . 2 PANTS .
. 2 SKIRTS . 1 SCARF .
. 1 COAT . 1 HANDBAG .
. mAKEUP POUCH . WASH-BAG .
. DOCUMENT HOLDER .
. MISCELLANEOUS POUCH .
Delsey Caumartin 55 cm fits everything I need for a 2-weeks-long trip! Double-wheels worked excellent throughout the 8 months test period. Doesn't get caught in parchment or pebbled walkways and glides like a dream without telling everyone you have arrived. Quiet wheels indeed! The handle works great with a maximum 10 kg load before it gets weird. Honestly, I have been pushing it beyond 12 kg. Shame on me. Tiny scabs at the bottom part of the carry-on but nothing too major. This carry-on weigh 2.2 kg (empty) which is heaven.
I love how the carry-on doesn't lose its shape even being stuffed with a mother-load of 'necessities' (i.e. ice-cream flavoured oreos) and remains looking light. The Delsey Caumartin 55 cm well justifies the price tag because we've got our money's worth. As of now, we are eyeing on the Delsey Caumartin 65 cm as a replacement for our 4 years old Delsey suitcase that has seen better days. Hope this post is informative if you are out in the market for a new suitcase! Signing off x